I can't quite believe that this little boy is 6 months old already! Time is flying and things are getting way more fun with this little fella every single day!
A few months ago the lovely people at BabyBjörn kindly sent me one of their highchairs to review and after giving it a real good test (in almost all circumstances!), I am pleased to report that this highchair is blooming fabulous.
BabyBjörn are mostly known for their extensive range of baby carriers, of which we own the Original and l o v e, so I had very high expectations for their highchair. The box arrived and after a few clicks (yes, I literally just had to click the legs into place!) we were already to go. Seb was 18 weeks old and I had just started thinking about weaning. I purchased a box of the Aptamil baby rice, mixed with a little expressed milk and we were ready to go. Into the highchair he went! Since then, we haven't looked back and Seb is on 3 meals a day and loving it!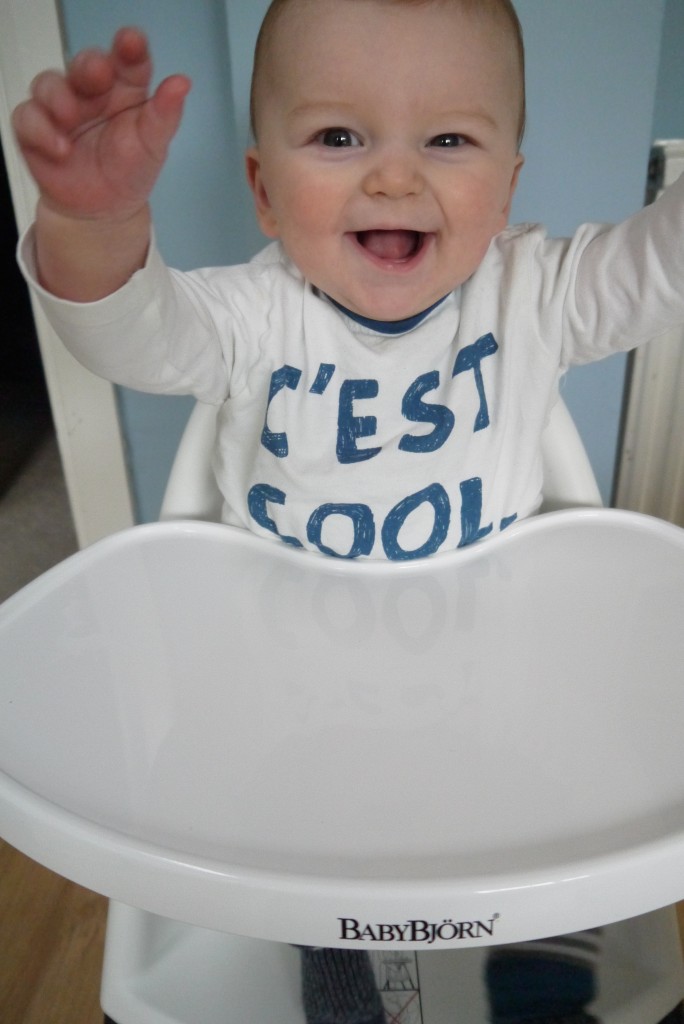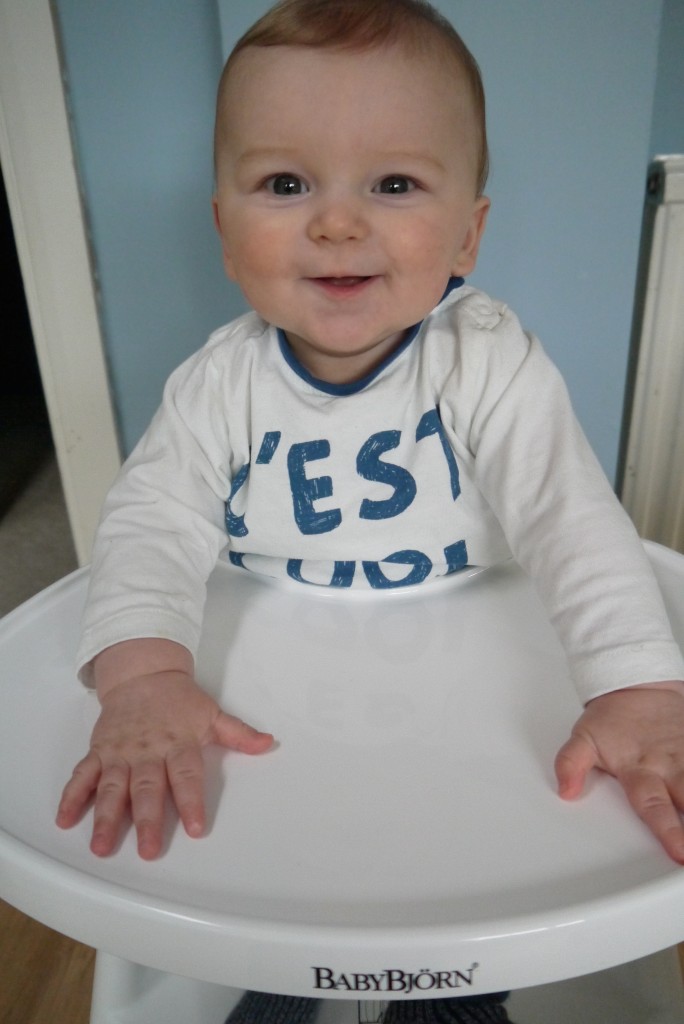 The highchairs design is extremely simple in concept and very easy to use. The tray simply folds down, you place the baby on the seat, move the tray back to the upright position and twist the knob under the seat which secures the tray table in place. There is one other switch under the tray table that moves the table forward and back to adjust to your babies ever growing tummy! The tray table fits snuggly to Seb's tummy ensuring no food is able to escape to his lap (although the floor is certainly not safe!).
Perhaps it's best feature in my eyes is it's ease to clean. There are no annoying knobs in sight to try and wipe around, no fabric to constantly clean when it gets literally soiled with mashed banana and no hard to reach areas you can't get your cloth into. It is genius and makes cleaning up after a very messy baby a breeze (the floor is often a different story!).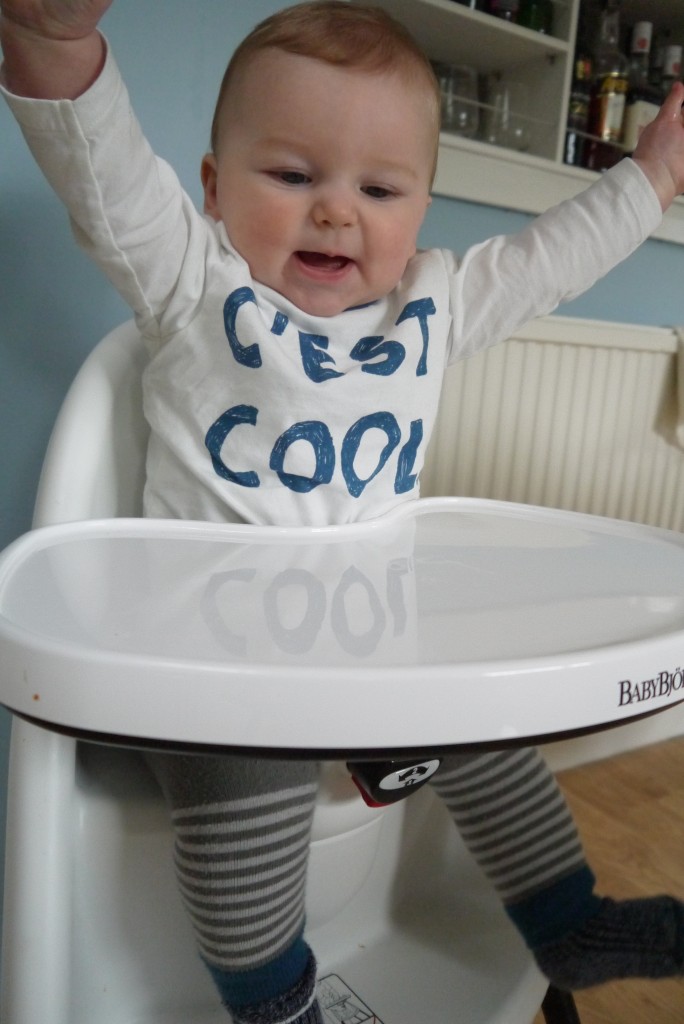 Seb's top says exactly what he thinks of his highchair!
"Now give me food, please!"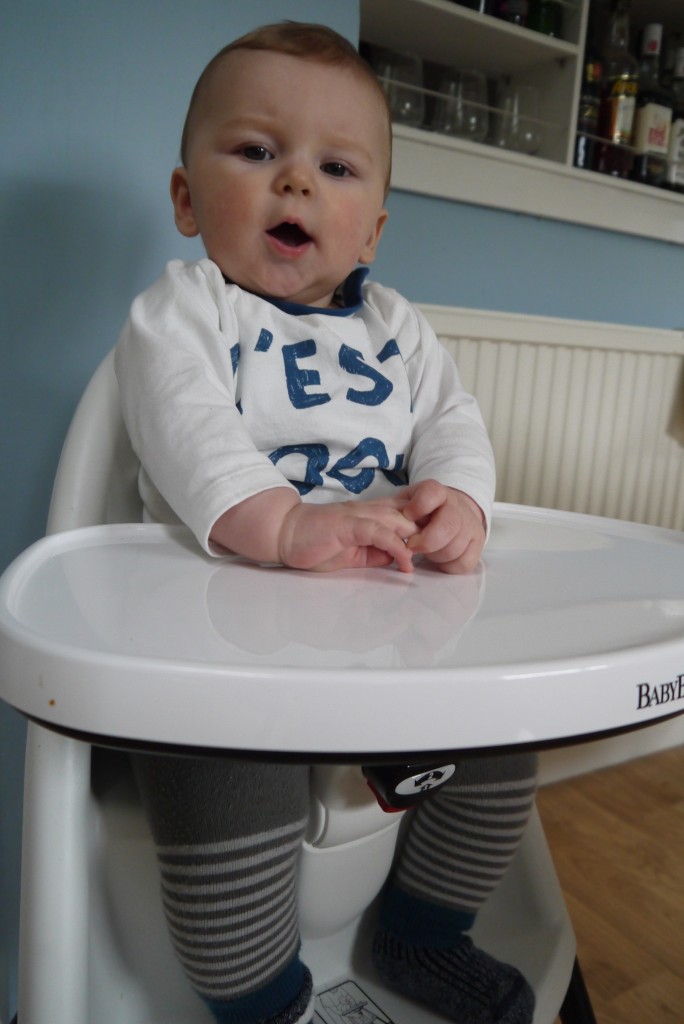 Around two weeks ago Seb suddenly perfected his hand eye co-ordination and it became very clear that he no longer wanted to be fed the array of exciting purees I had been making him and instead we have resorted to 100% baby led weaning. I simply place a selection of fruit, vegetables and meat onto his tray and he will demolish the entire lot. Knowing that the table is clean with no distracting features means that Seb has learnt very quickly to feed himself and now identifies food he loves almost instantly when I put them down in front of him.
One point worth addressing which I was slightly nervous about on first inspection is its accommodation for larger babies. I mean Seb fits perfectly now so it is hard to imagine a bigger baby fitting, but rest assured I've had an 18 month old test drive (oh and she loved it by the way!) and there is plenty of room for your baby to grow.
The BabyBjörn highchair has made weaning Seb a total joy and he loves to sit in it when I am cooking and cleaning in the kitchen too. The highchair folds flat for easy storage but it's just so good looking I dare put it away! You can purchase the highchair from John Lewis (RRP £179) and I really couldn't recommend it enough. Thank you so much BabyBjörn!