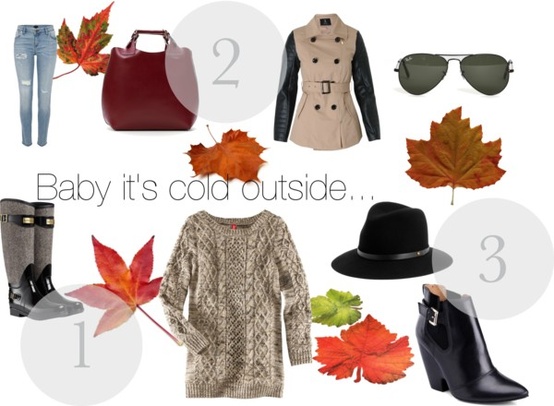 Today saw the first glimpse of winter, snowfall. Unfortunately it didn't touch us here in Bournemouth but many parts of Dorset, Somerset and Devon were blanketed in sheets of snow.
A few things I'm loving at the moment:
1. These gorgeous Regent Hunter wellies and H&M cardigan. I love the combination of colours and textures, making it easy to wrap up warm but still look fall-fashion-ready.
2. 50 shades of fall. Winter isn't all about black on black. This year brighten up your wardrobe with these stonewash River Island jeans, plum tote from Zara and military style mac from Rare London. And if the sun does come out, always make sure you've got some  classic Ray Ban aviators stashed away at the bottom of your bag.
3. Boot and Hats. Hats and Boots. These are my key accessories for fall. Leather ankle boots that can be worn so many ways and a woollen fedora to keep you snug. Perfect.
I hope you're having a lovely Sunday. I'm babysitting my 18 month old Godson and having a 10 minute break from turning my living room floor into a car racing track!