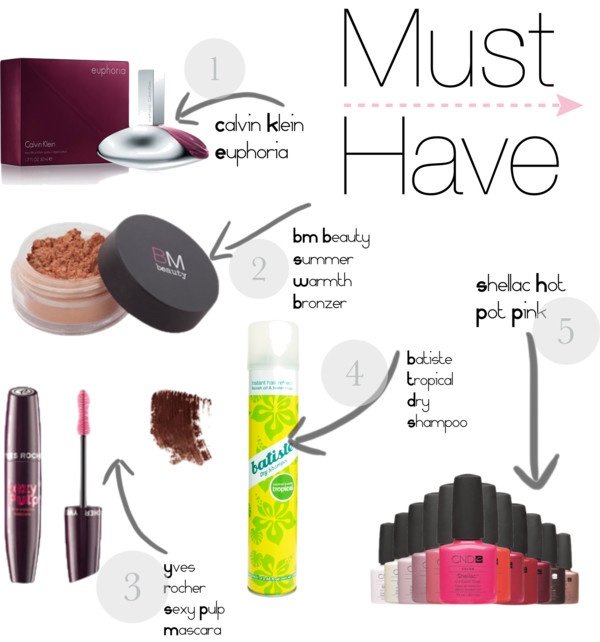 The weather has been unexpectedly good so far this week so I've been having a bit of a clear out of my make-up and various cosmetic items. I think its good have a bit of a reshuffle every now and again, I always end up discovering something in those dark deep drawers that I didn't know I owned, bonus.
It got me thinking though, there really are only a few staple items that I use on a daily basis that if I was stuck on a dessert island, I probably couldn't live without.
1. Calvin Klein Euphoria has always been my scent and always will as far as I'm concerned. I think it's got something to do with teenage memories, it was the first perfume I ever owned and it reminds me so much of my youth. Maybe I just want to smell like I'm 16 again! You can see Lara Stone in their glamorous new ad here.
2. I have always found it hard matching blushers with my skin tone until a little goody arrived in my GlossyBox back in May which changed everything. BM Beauty is a range created by Kimberly from the Pussy Cat Dolls (not a range I would normally go for admittedly) but this bronzer works an absolute treat. You need a minimal amount for a gorgeous affect, and I use it daily as a blusher. If you have olive skin and rely on bronzer I would definitely recommend giving this a go.
3. Another little find from the May GlossyBox, Yves Rocher Sexy Pulp mascara. I hadnt heard of Yves Rocher before, but after checking out their website they claim to be the leading make-up brand in France. Now I would do anything to have that Parisian flawless skin any day! They are an extremely ethical brand and it shows in the quality of their products. The shape of the brush and the lasting effect of the mascara is like nothing I have tried before. My mascara usually wears towards the end of the day and I get horrible black smears under my eyes, but this mascara eliminated that problem.
4. Batiste. My all time favourite hair product. Possibly the best invention since sliced bread? The Queen should be honouring this inventor, in fact they deserve a nighthood. Batiste is the most diverse and wonderful product I have ever used on my hair. If you're like me a struggle with greasy hair after a few days, this is the solution.
5. I'm as obsessed as ever with Shellac polishes. The long lasting wear, the strengthening of your nails and the overall look is second to none in my opinion. I'll loving the Hot Pot Pink this week.