Having kids kind of makes popping out for dinner pretty difficult, well for us anyway. With Scotts family living in New Zealand, we're dependant on my full time working parents which can be pretty tricky.
I was contacted by La Belle Assiette, a simple but wonderful concept of choosing your menu online, and they'll hook you up with a chef who will come and fine dine you in the comfort of your own home. To be totally honest, I jumped at the chance. I love staying at home, but equally adore fine food, so I was so excited to see how amazing, chef cooked food would be made in my home!
After I confirmed the booking, I was contacted by Taher, our chef for the evening. We talked about my guests, any dietary requirements and I told him about what kind of food we like (we're all mums, we're happy for a cooked meal!)
The day of our dinner party arrived a few days later and Taher had confirmed he would be arriving at 5pm to get prepared. I informed him that the kids would probably be running riot/having various meltdowns regarding dinner time…always a stressful time in our household. He reassured me that he had children of his own, and he would just work away in the background. I was a little apprehensive letting someone into my kitchen to cook, what would he think of my pans, my knifes, my setup?! I needn't have worried in the slightest, Taher was just a joy to have in my home. He bought everything he would need, all of the food, serving dishes and his wonderful persona, which we all adored.
Before we knew it, the kids were in bed, my house smelt sensational and my guests had arrived. We had been sent our menu earlier that day, which just sounded amazing :
APPETISER
Creme Dubarry (Cream of Cauliflower soup)
STARTER
Trio of ceviche (Salmon, smoked haddock and cod with lime, coriander and chilli)
MAIN COURSE
Slow roast belly of pork, sage butter, caramelised ginger apple.
DESSERT
Chocolate, banana & salted caramel
COFFEE
Italian biscotti with fudge
We had a photographer arrive before the meal was served, so I must thank La Belle Assitette for passing on the wonderful images from the night.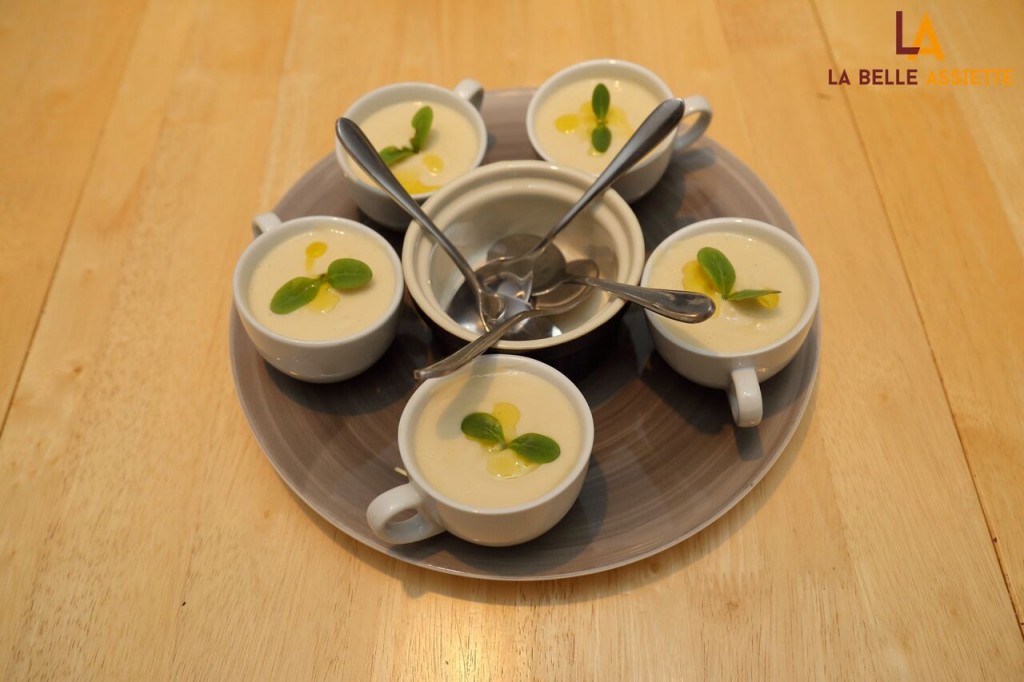 Creme Dubbary, a delicious bowl of warm cauliflower soup that none of us wanted to end!

My favourite course of all, a trio of ceviche. Utterly sensational. One of my guests is not really a fish person, but she was totally won over by this wonderful, modern dish.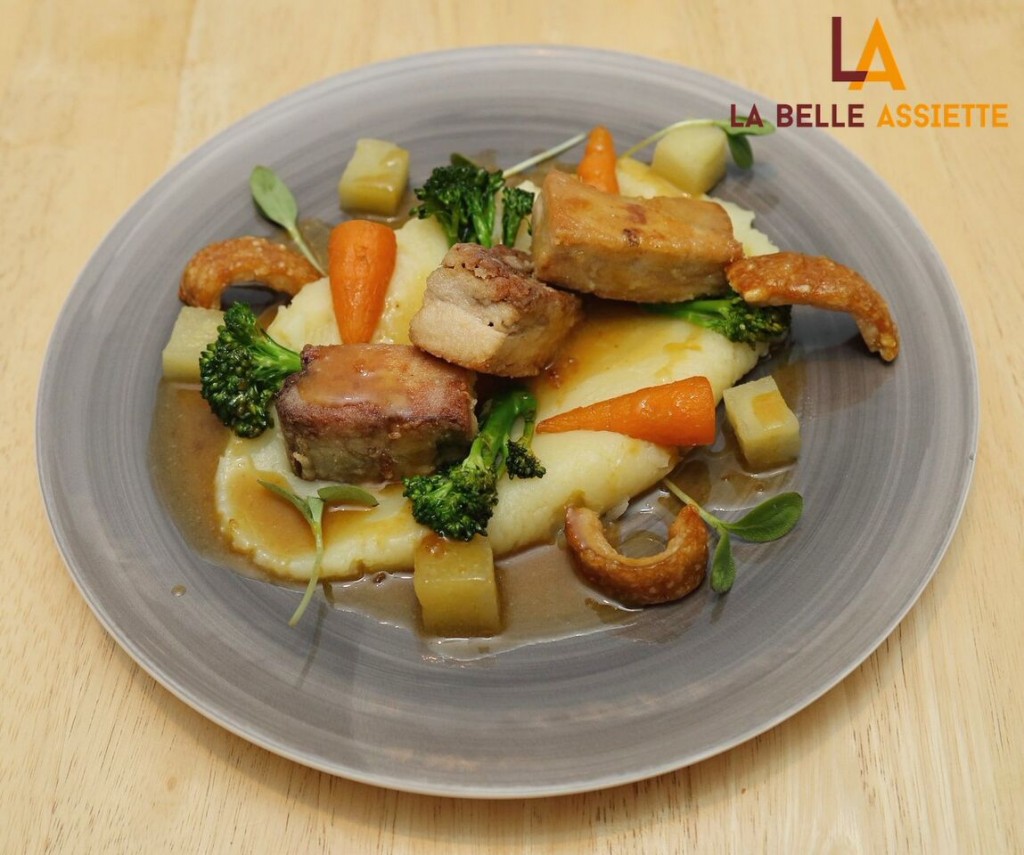 And for our main course, slow roast pork belly which was just spectacular.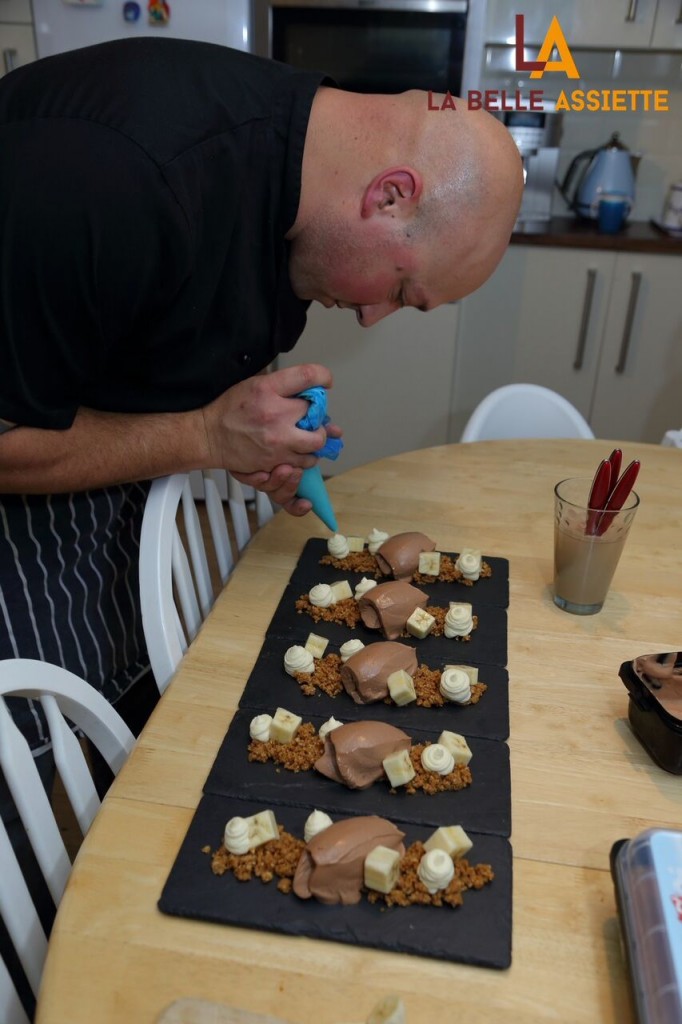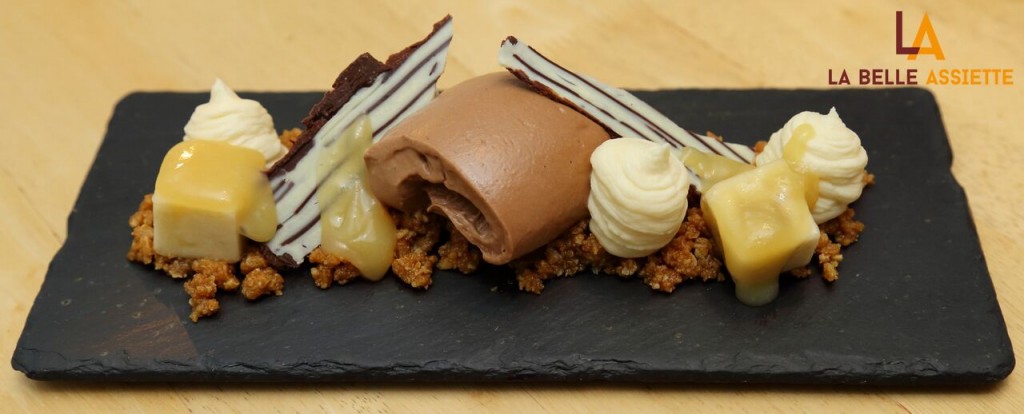 Finally, when we felt like we could not go on, Taher presented this mouthwatering desert which he described to me before hand as "Chocolate, banana and salted caramel"… and my response was just "Yes, yes, YES!".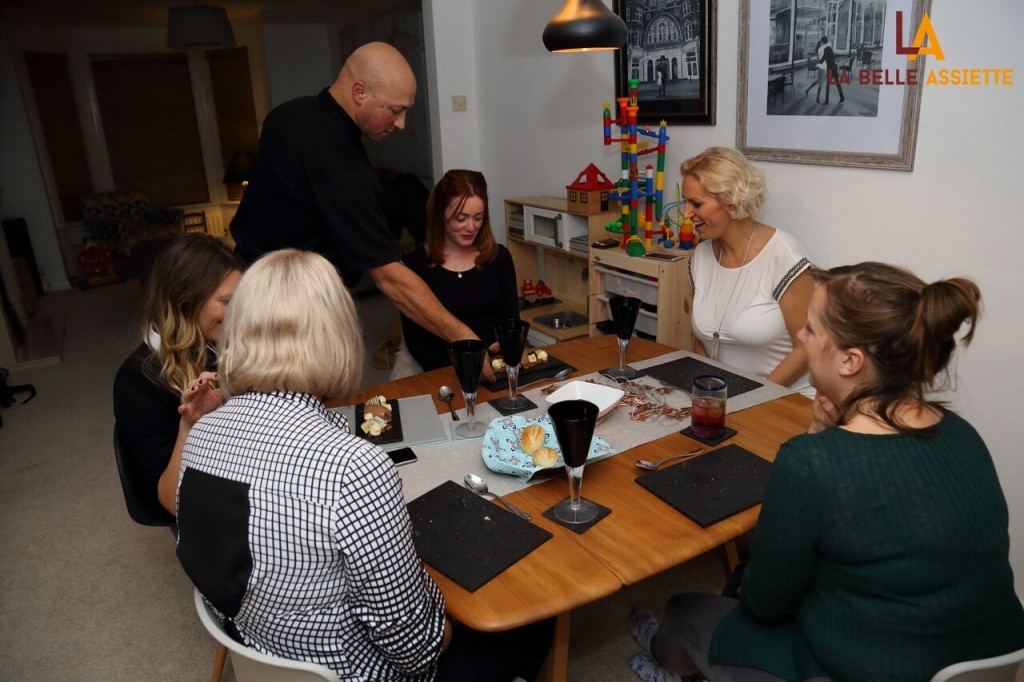 We had the most fabulous evening, trying foods we had never eaten before, all the while being free to enjoy our wonderful meal in the comfort of my home. Taher is one of the nicest guys, so professional but made me feel totally at ease through the whole process. He even left the kitchen spotless. The evening was such a pleasure and we would book Taher again in a flash. If you'd like to read more about Taher, you can read this lovely write up on him here.
Thank you to La Belle Assiette for arranging the evening. I'm now left wanting more, an experience I will not forget.