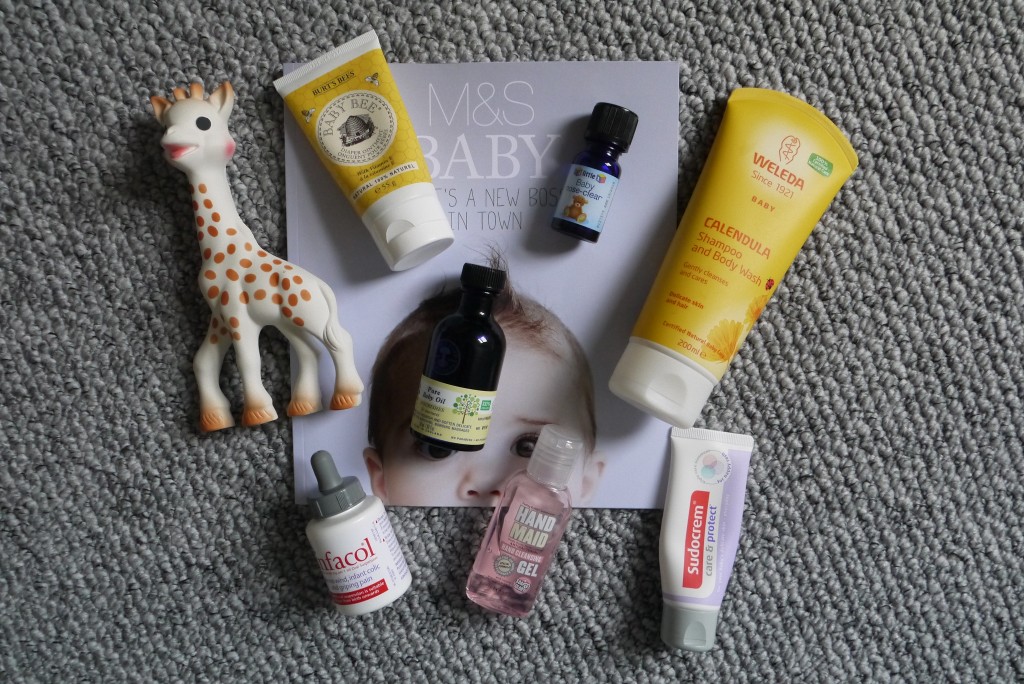 When I was pregnant, I researched high and low to find a simple list of the things I would need when baby Seb arrived but I didn't really have any luck, so here is my baby essential list of my favourite tried and tested products that you can use from birth.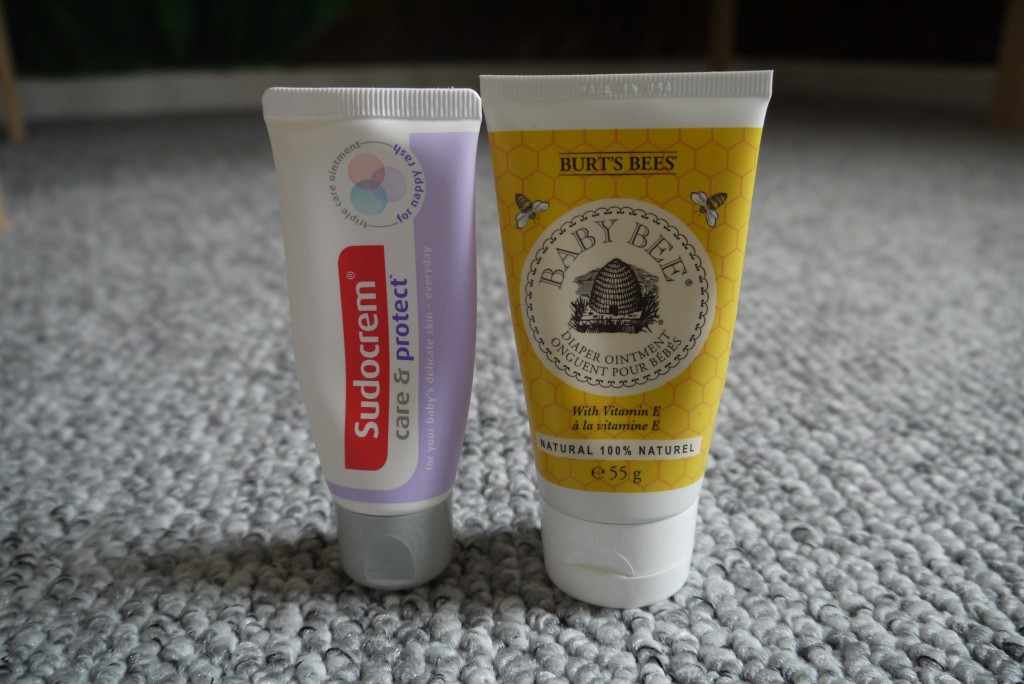 Nappy Changes
There's no doubt about it, babies poo a lot. If your baby is like mine, they will happily sit in their poo for a good few hours before you realise they have done a number two! Unfortunately this results in a pretty nasty nappy rash that is extremely red and sore and sometimes even cracked and bleeding. The best cure is lots of naked time to air out their little bottoms and cotton wool and water when cleaning their nappy (no wipes, I even found the Water Wipes to be too strong).  However, there are two products I have found which really can help soothe sore bottoms and help repair the skin. The undoubtable best is Sudocrem Care and Protect. This formula is a lot thinner than the original Sudocrem and is specially formulated for newborn babies skin. Use at every nappy change and once a day, smooth all over the nappy covered area.
For days when we have needed more of a protective barrier, the Burts Bees Diaper Ointment is the one. It is thick and rich in consistency and applies like a chalk that is still visible at the next nappy change. As with all Burts Bees products, the formula is 100% natural.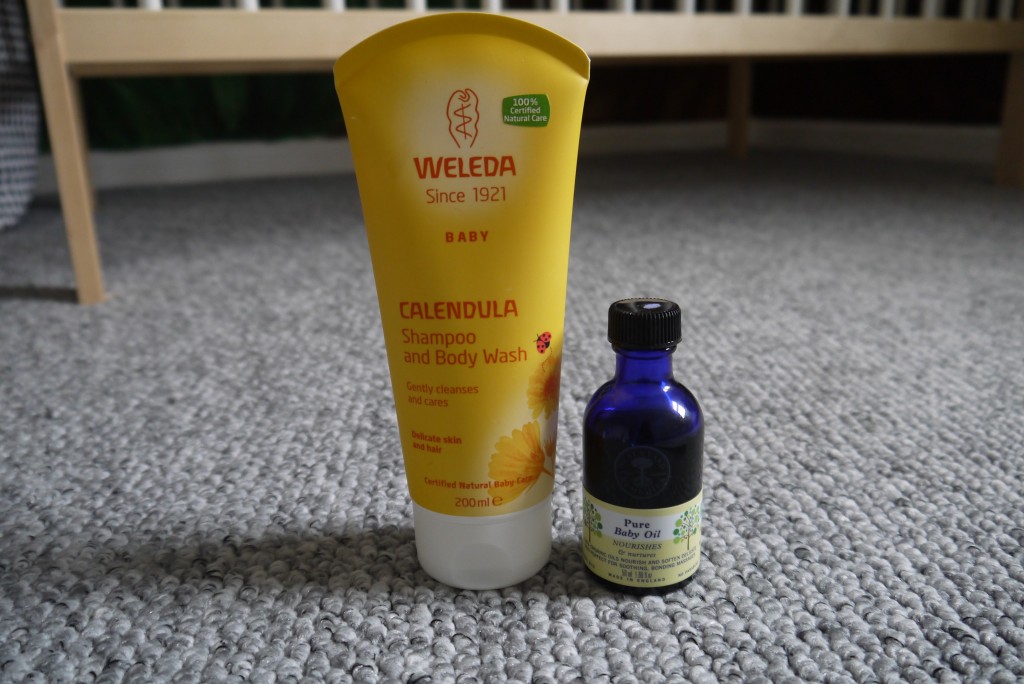 Bathtime 
We gave Seb his first bath on his 2 week birthday. The NHS advice for bath times is to just clean with water, however after about 4 weeks, I felt like I needed something a little stronger to dissolve the milk and poop build up in hard to reach places (namely chubby fat rolls!). The Weleda range in Boots was 30% off so I thought I would give the Calendula Shampoo and Body Wash a go. Seb was also suffering from a little cradle cap and I'd been told a gentle shampoo would help. This seemed to solve two problems in one and it sure does live up to it's description. It smells nutty and delicious and is so soft and gentle on the skin. Just a pee sized amount lathered up in your hands is enough for head to toe and I immediately noticed the difference to his cradle cap.
I had also been given this Neals Yard Baby Oil as a gift before Seb was born which is specially formulated for Baby Massage. We are lucky enough to have a free baby massage class at our local children's centre, so at our first session I thought I'd give this a go. It is not greasy in texture and absorbs into the skin leaving it soft and silky. It is definitely a favourite after bath time for us.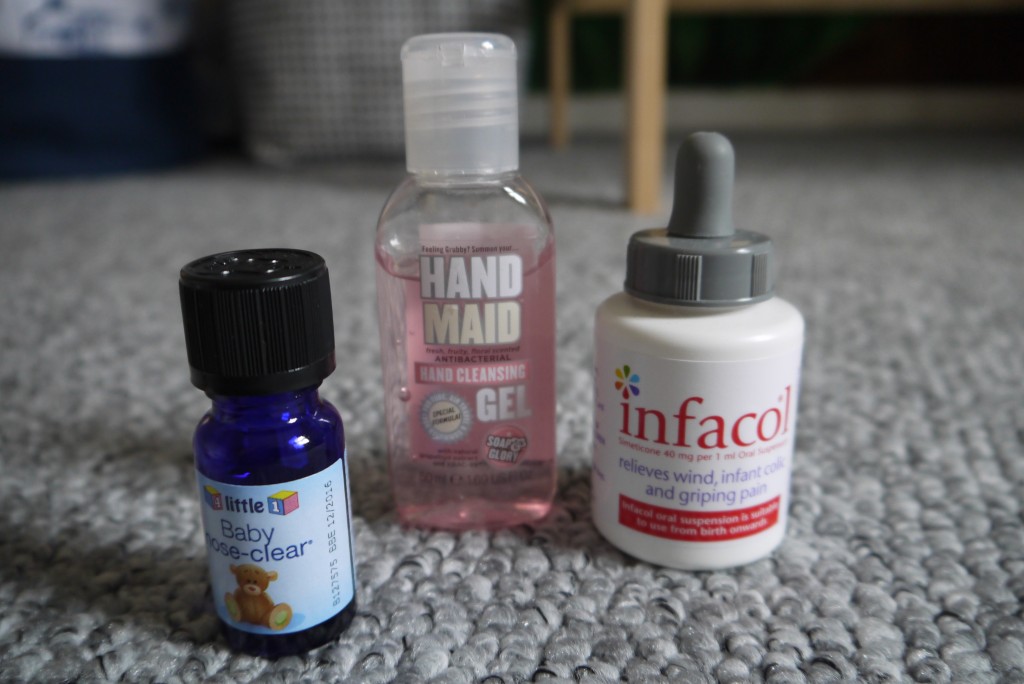 Other Basics 
The Soap and Glory Hand Maid Hand Gel is the best antibacterial gel that doesn't dry out your skin. After a million hand washes a day, your hands soon become as dry as a sponge so make sure you have a good moisturiser on hand too!
In the first month when breastfeeding is still a momentous challenge, Infacol was a saviour at helping Seb bring up his wind after a feed. Some babies will take in a lot of air when feeding, especially if they are bottle fed on using nipple shields in my case, and a few drops of this before feeds was a godsend.
As the weather changes seasons, we've been picking up colds left, right and centre. The 4little1's Baby nose-clear is suitable for babies from birth and is formulated using 100% natural oils. You add a few drops to a warm bowl of water at night time and let the aromas do their work.
A few other little pointers to the products I use and love –
Nappies – Aldi nappies (from their Mamia range) are without a doubt the best nappies I have used (way ahead of Pampers!). They are cheap as chips (between 7-10p per nappy!) and rarely let us down. They are much softer than the paper feeling nappies and I just cannot stop raving about them!
Cotton Wool and Water – It sounds so simple but really, cotton wool and warm water is simply the best cleaner for your babies skin. I bought packs and packs of the Water Wipes and just did not think they were worth the money. They were far to cold on Seb sore bottom and often made him scream with pain. It's worth having a pack or two on hand for those really explosive nappies and for your changing bag, but there really is nothing better than water. I use these cotton pads from Wilkinsons and have a small bowl in his nursery for warm water.
Muslins – It really is true what everyone says, you will need ALOT of muslins. I bought 30 and find I use them all within a few days. Whether its to use when feeding, protect the changing mat from explosions, mop up sick, you name it, you'll be needing them! I absolutely love the M&S Muslins and have them in 4 different designs. I love these for boys and these for girls.
Washing – You will be filling your washing machine with baby clothes every few days so make sure you are prepared! I use the Fairy Non Bio Gel which is perfect for babies sensitive skin. Whatever you buy, just make sure it's non bio! Something I was not prepared for is the stains of baby poo! The yellowy poo is horrendous to get out of white baby grows and muslins but there is a game changing product called Napisan. Fill a bucket with cool water and add a few tablespoons of Napisan to soak away the hard stains. It really does work and again is non-bio.
I hope this helps you prepare for the arrival of your little bundle of joy!