It's no secret, I am loving pregnancy. Having not even found out I was carrying a little baba until I was 22 weeks, the last 6 weeks have not only gone past so quickly, but have also been so amazing. Today I am 28 weeks pregnant and officially into the third trimester. I don't want to turn my blog into a complete baby blog, but I know those that haven't been pregnant before are always interested in knowing what it feels like and how I'm feeling, so here it is from me, the wonderful ways my body is changing and pregnancy symptoms I have experienced so far.
A growing and moving belly 
One of the main reasons I took a pregnancy test (at around 21-22 weeks) was because I thought I could feel movement in my tummy. It's not even hard to explain, you know when you have a nerve twitch in your leg and it's pulsing like crazy, that is exactly how those first moments feel. Since around 23-24 weeks, I have seen clear movement and felt lots of kicks, punches and rolls. Over the last week, the baby is waking and sleeping in patterns. He will wake for 15-20 minutes, give me a few crazy kicks and then sleep again for a few hours. When I eat or drink something sugary, he will wake up and let me know all about it.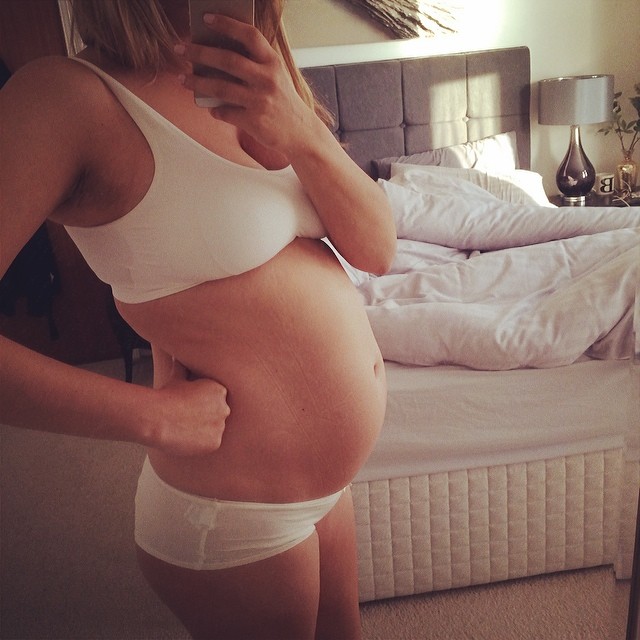 Stretch mark wise, I have been very lucky so far. I have a nice round (very low and frontal) bump but no signs of stretching just yet! I am sticking to a fairly simply routine, Bio-Oil over bump in the morning after a nice massage of Liz Earle Body Wash in the shower, and Palmers Cocoa Butter Stretch Mark cream all over in the evenings.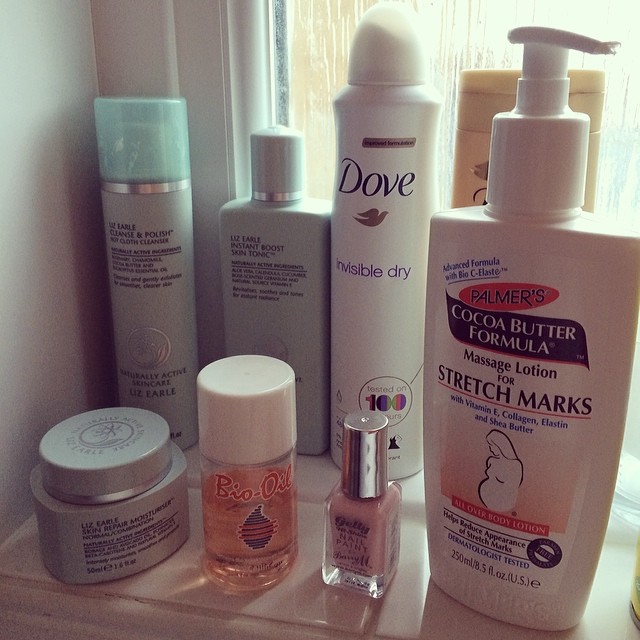 Eating (and lots of it)
From 24 weeks to around a week ago, I really was eating uncontrollably. No amount of food I ate made me feel full. It was beyond anything I had ever experienced before and felt like I had to eat every 30 minutes. I bought bags and bags of snacks for work. The most effective hunger stoppers were bananas, mixed fruit bowls, cereal bars and rice cakes. It has calmed down alot over the last week, but I am still having to eat much more often than ever before!
Although I have been eating lots, I haven't experienced any crazy cravings as yet. I think you can pin alot on pregnancy in general, but I have found that I've been eating more cinnamon based foods – think hot cross buns, cinnamon cereal, bagels and cinnamon rice pudding. I think it's just a psychological excuse in my head to really eat what I like!
Regarding the guidelines of what not to eat in pregnancy, obviously up to 22 weeks I was still eating what I like. This is where the majority of foods they tell you not to eat can do the most harm to you and your growing baby. Since finding out I was pregnant, I haven't changed what I'm eating all that much. I just wont eat veiny cheese, very rare steaks (my favourite) and I have stopped smoking completely (bad habit in the first place, I know). I am still eating the occasional runny egg, I enjoy a large cup of filter coffee at work in the mornings, I eat seafood and shellfish as normal, I will have a small glass of wine if I really feel like it, and I will eat my steak medium rare. Controversial, maybe, but I am healthy and my baby is healthy.
Odd sleeping habits and crazy dreams
Perhaps the strangest pregnancy symptom yet is becoming a "morning person". I am wide awake like clockwork at 6am every morning and often wake up every few hours in the night. I stopped being able to sleep on my tummy at around 22 weeks so I have been sleeping on my sides ever since. In the last week, I have used a pillow under my belly just for a little support.
I have also experienced some very crazy "cheese" dreams. You know, the ones that are really vivid that occur after a huge cheese eating session before bed? Yes, I'm getting alot of those!
Back pain and leg discomfort
After Christmas, I experienced the most awful lower back pain which I now know was a direct result of being pregnant. I was spending £80 a week at the chiropractor for treatment of sciatica pain and Coccydynia (extreme pain in your coccyx). I was unable to sit for any length of time, and often yelped in pain when I got up from the chair. It was absolute agony. Although back pain in pregnancy is very common, it is not so common to experience it this early in pregnancy (8-12 weeks), but it simply meant that the baby was putting pressure on my now supple and moving joints. The pain has eased off the last few weeks, but I'm certainly making more of an effort to get up more in the office as 9 hours in the same seat does not help!
Leaking boobs
This is something I experienced from around 24 weeks and at first takes you by complete surprise! I won't elaborate from the title, but I have found these have been good at night and padded sports bras help to cover up any immediate issues! It is very normal to experience this in your 2nd and third trimester, although it is not the most pleasant of symptoms!
Nothing fits!
As soon as I came back from New Zealand, I was out of my old jeans. Not so much that they didn't fit at all, but it was putting a huge amount of pressure with buttons and zips on my very low bump. I have always been carrying low, and it just became impossible to wear my "old" clothes from around 24 weeks. I have since invested in 2 pairs of maternity jeans (from H&M which are amazing) and a few pairs of leggings which I wear religiously. I have found most maternity clothes very unflattering and just plain boring, so have stuck to colourful stretchy dresses from Primark for work and lots of long fitted vest tops from H&M for weekend wear.
Hormones
Thankfully I have only had 2 emotional "episodes" since finding out I was pregnant. My first was at 24 weeks where I cried uncontrollably for over 2 hours. The reason, well, that I would now have to spend money on a baby instead of buying wooden floor for the living room. Completely and utterly ridiculous, but that's hormones for you! The 2nd was last week where I came home from work again and cried for hours until I went to bed. Even fish and chips didn't stop the tear! I have also found that my anxiety has returned with a vengeance these last few weeks. It's not out of control just yet and I am still using my trusty breathing techniques and distractions, but it is certainly harder to deal with when your hormones are playing havoc with your head.
So there they are, all my pregnancy symptoms so far! I don't think I've had it bad in the slightest, in fact, pregnancy makes you feel totally awesome. Every time I feel him kick, I am mind blown that MY body has made him.