Mondays are horrible. I'm not a morning person at the best of times, but after having two consecutive lie-in's, then having to get up at 7am, no. thank. you. My mood could not be any worse on a Monday morning. It's like waking a monster. Really it's that bad. We decided to come up with ideas for a feel good evening especially for Mondays, almost as a reward for getting through the day or "making it" as we like to say.
Homemade pizza's really seemed the only option. Fun and easy to make, naughty and relatively healthy all at the same time. Breaking the rules sometimes is bad ass.
Warning, pizza heavy post. I know you won't be able to resist…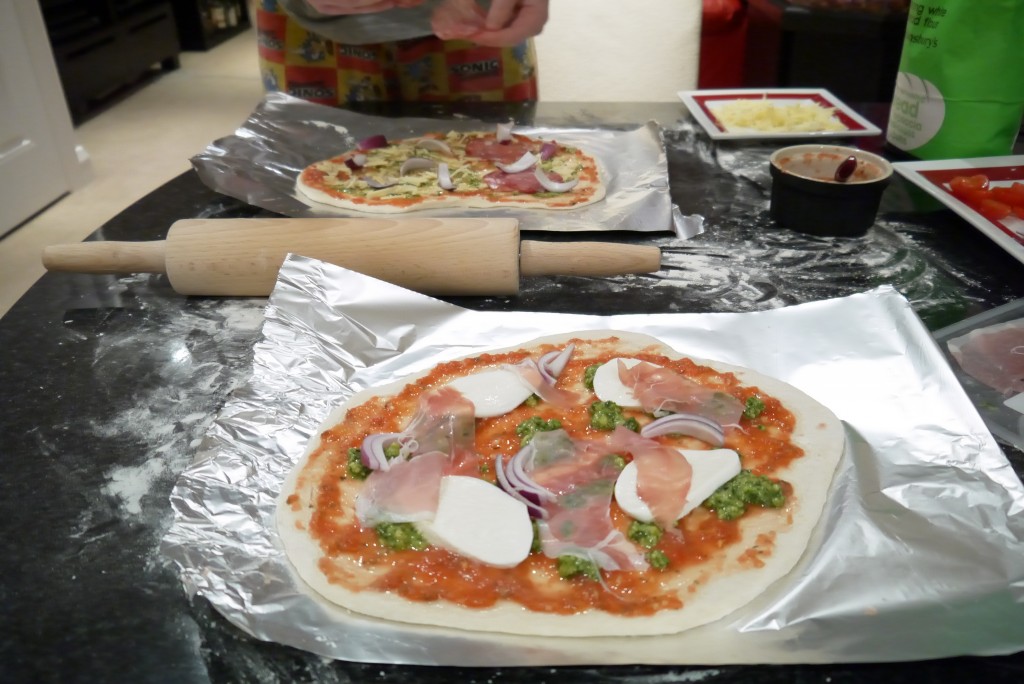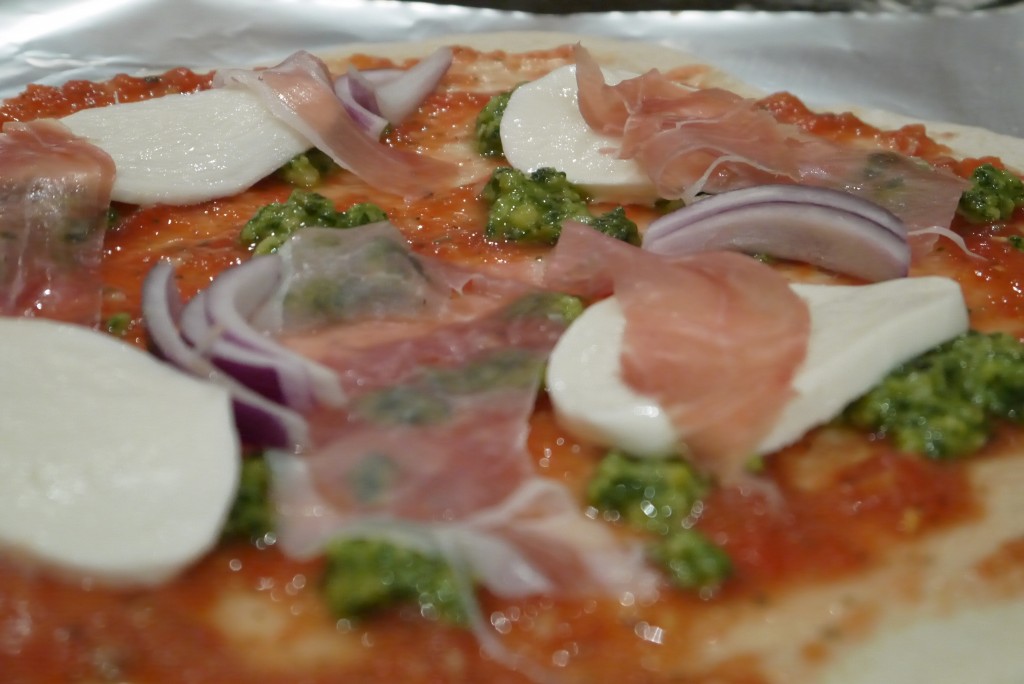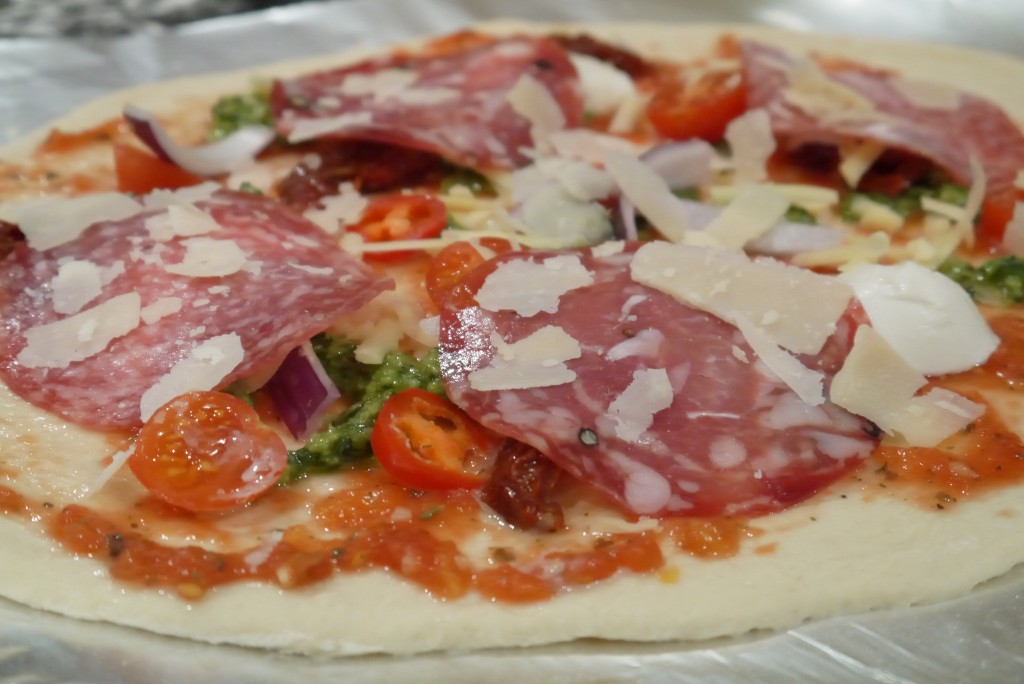 Before any pizza making can take place, you need to give each other authentic Italian pizza-maker names. We kept ours original, Scott was Mario and I was Luigi (sound effects included).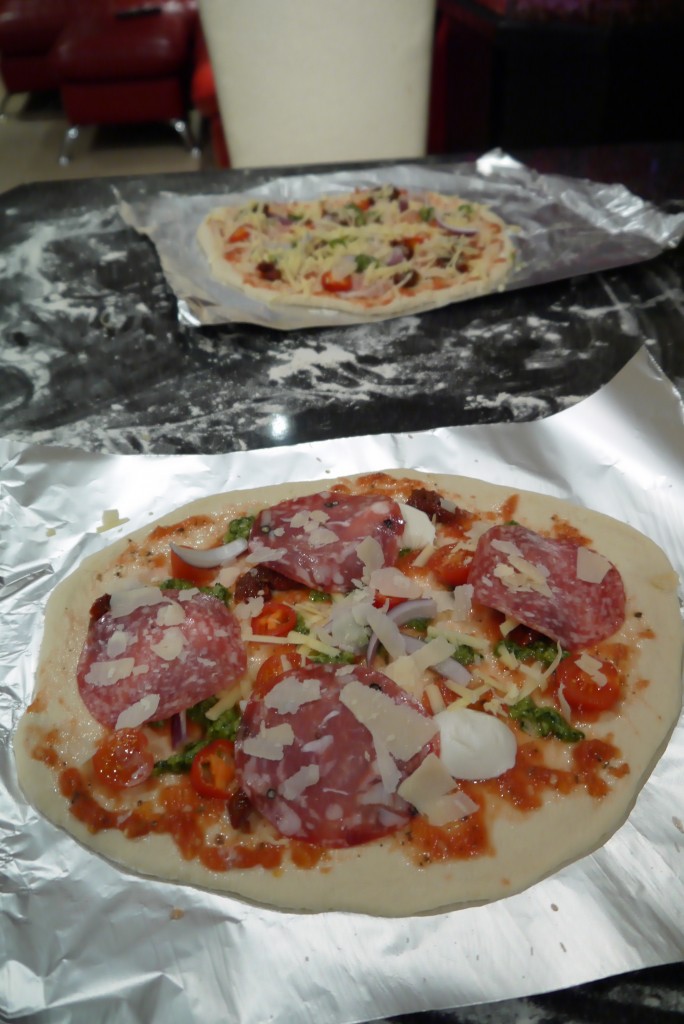 We made the dough, tomato sauce and pesto from scratch. Do it. It's worth it, a million times over. For the dough, I halved Jamie's recipe to make 4 medium sized pizza bases. The tomato sauce is easy peasy. Take the tomatoes out of a tin of plum tomatoes (bin the juices) and blend in a mini processor with some garlic, mixed herbs, salt and if you like it spicy, some chilli sauce.
The pesto is the best pesto you'll ever taste (apart from maybe the real authentic stuff you'll be dipping your mozzarella into sailing along the Tuscan coast). Take a large bunch of Basil, a handful of pine nuts, more garlic, a large sludge of olive oil and a rather large handful of grated Parmesan and whiz it up in a processor. Perfecto.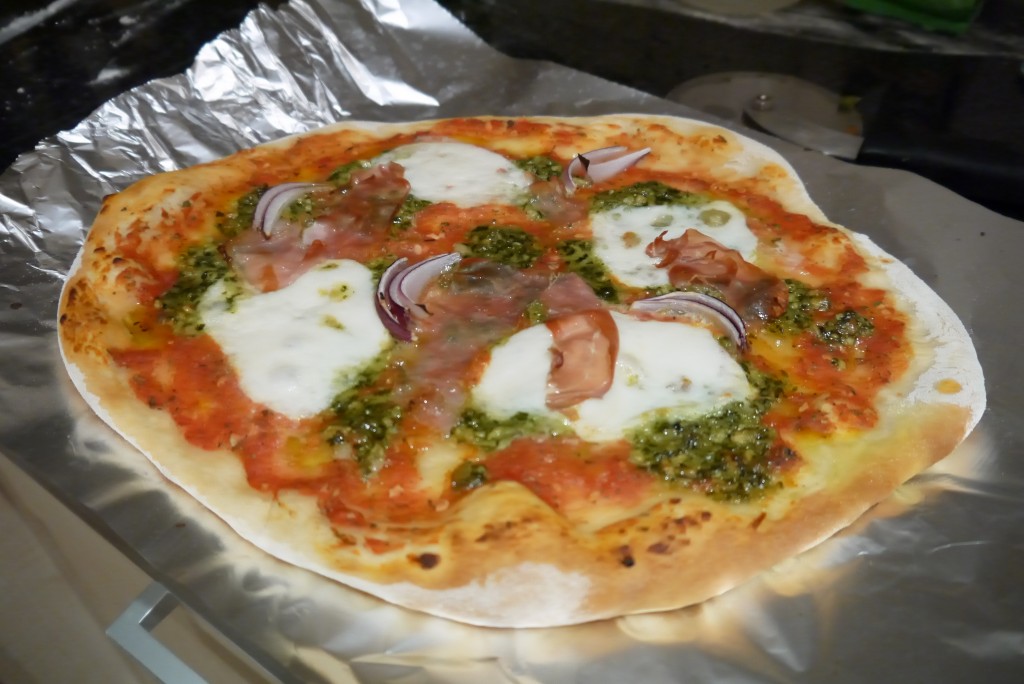 I would say it started off well, but I'd be lying. We couldn't resist piling on the toppings (especially the cheese).
Did I mention you need to do this in your pyjamas? Yeah, it's way more fun that way.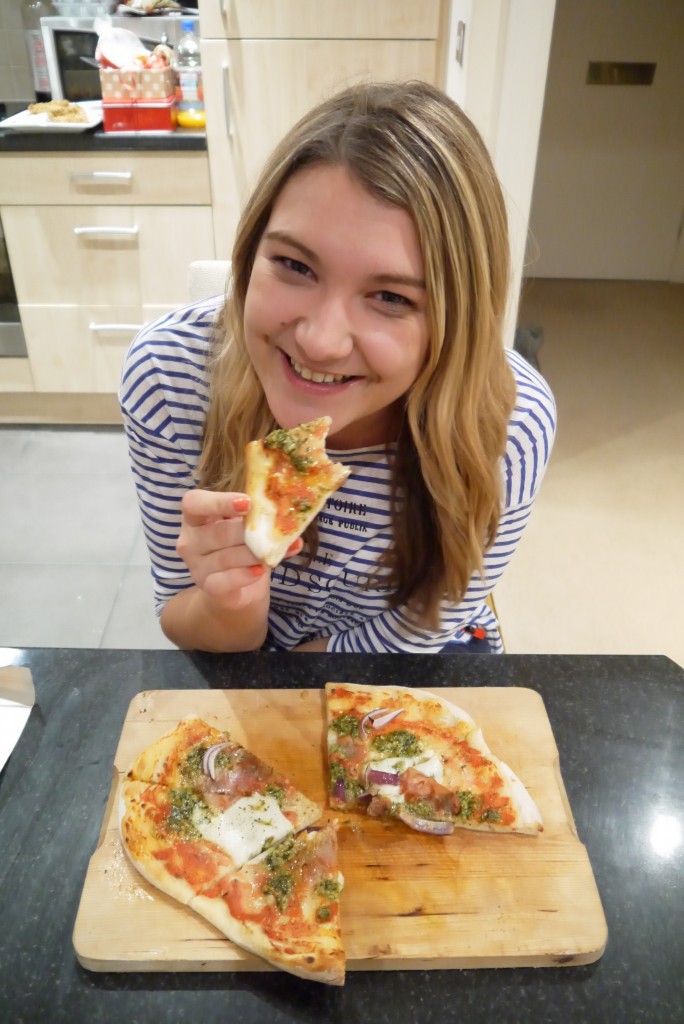 We made 4 pizzas with various delicious toppings. In fact, we made 2 pizza's each and had our own pizza off. I won. Hands down.
Pizza 1 kept it pretty tame. Just a few tablespoons of pesto, tomato sauce, mozzarella and parma ham.
Pizza 2 is when the competition really heated up. Pepperoni, chorizo, sundried tomatoes, mozzorella, parmesan and red onion. We both agreed this was the winning pizza. It was rather a masterpiece, but that didn't stop us from devouring the whole lot!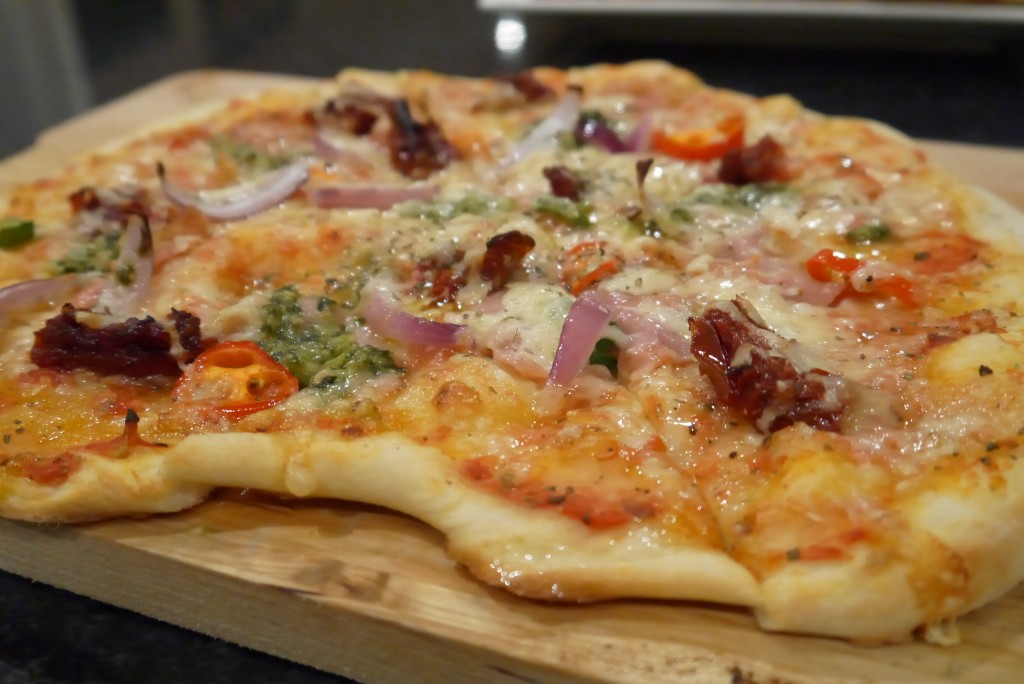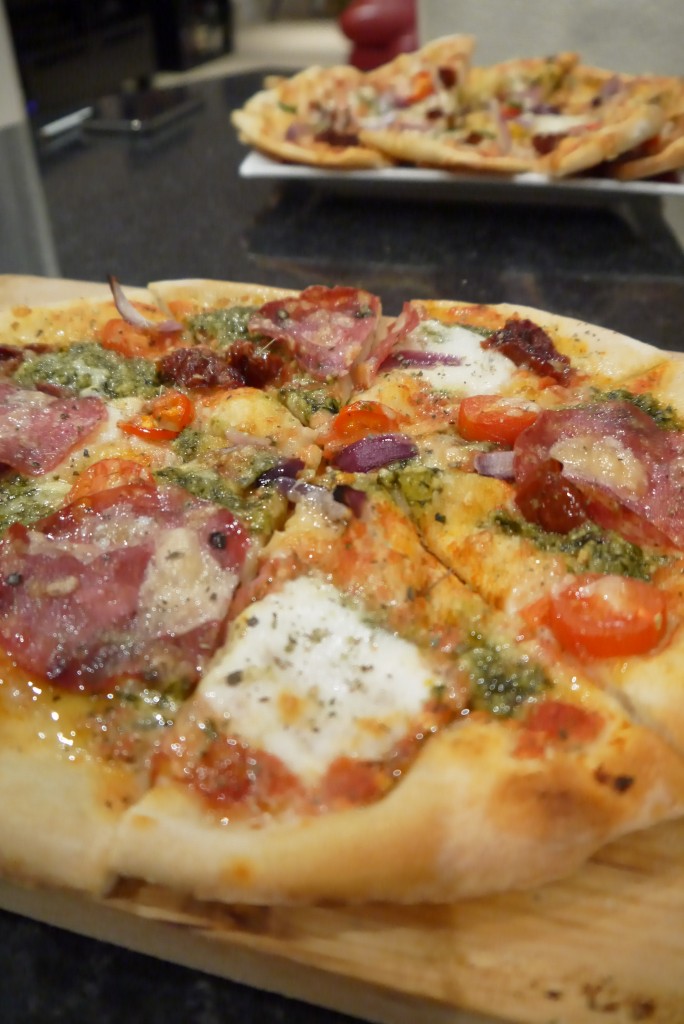 Monday's just got a whole lot better. Especially when it coincides with the release of Skyfall (which we still hadn't gotten around to seeing!). We grabbed a blanket, and snuggled up eating pizza watching Bond doing his thang'. I may just be looking forward to next Monday already…